Summer Menu
Available: Year-Round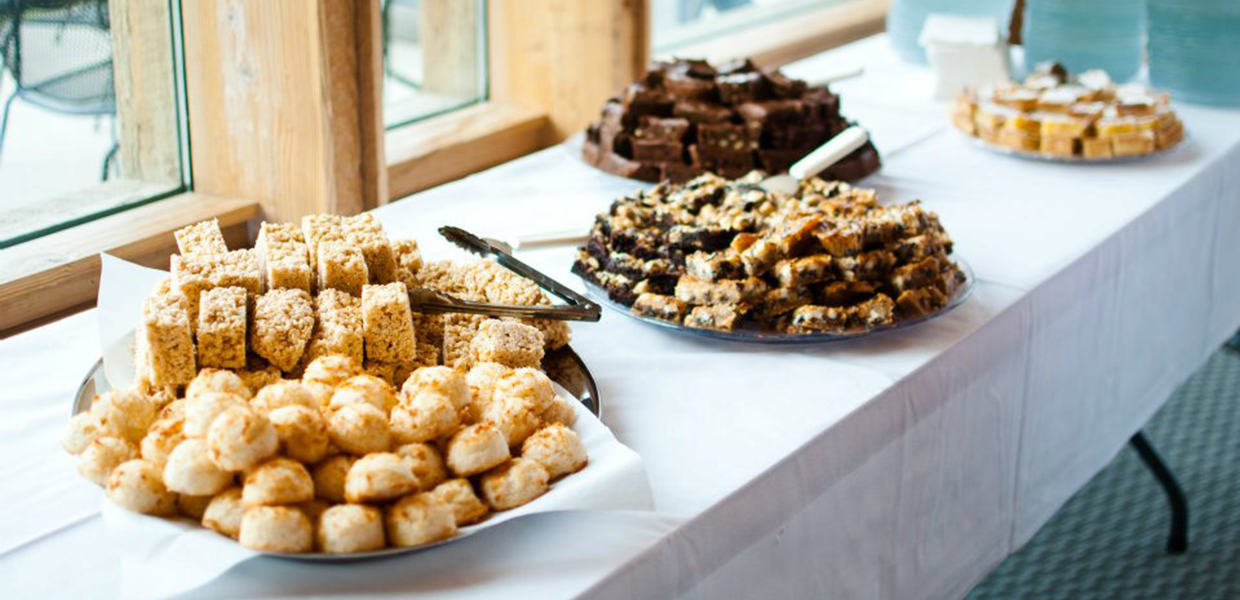 Continental Breakfast:
Includes an assortment of fresh baked donuts, sweet rools, bagels, fresh fruit, coffee, assorted juices, milk and cereal. We also offer scrambled eggs with chopped ham for an additional $2.95 per person.

$4.50 per person for groups of 75+
$5.00 per person for groups fewer than 75
Minimum group size of 30 people.
Continental Breakfast To-Go:
Includes juice, a muffin, a piece of fruit, a cup of yogurt, and a bottle of water, all bagged and waiting in golf carts when you arrive.

$9.50 per person for groups of 75+
Full Breakfast Buffet:
Juices

Coffee

Scrambled Eggs

Hashbrowns

Ham

Bacon

Sausage

French Toast

Hot & Cold Cereals

Price: $14.95 per person (minimum of 40 people)
Sack Lunches:
Your selections will be placed in bags and will be ready for your guests to pick up. Each sack lunch inludes a small bag of chips.
Please select one of the following options:
Sandwiches:

Ham: $5.29
Ham and Cheese: $5.59
Tuna: $4.99
Pastrami: $5.59
Turkey: $5.59

Additional Items:

Cookies (2 per pkg.): $1.50
Candy Bar: $1.50
Fresh Apple: $1.75
Cup of Fruit: $2.25
Cup of Potato Salad: $2.25
Cup of Pasta Salad: $2.25
Drinks on the Golf Course:
For Case Pricing a minimum of three cases must be puchased in total.
Soda Pop:

$28.00/case

Bottled Water:

$38.00/case

PowerAde:

$48.00/case

Beer:

$49.50/case
Catering Options:
Minimum group size for catered affairs is 30 people.
All catering options are served buffet style.
1. Prime Rib and Dutch-Oven Turkey -

$24.95

Includes: Green Salad, Baked Potato, Califonia Pasta Salad, Coleslaw, Baked Beans, Roll & Butter, Beverage.

2. Dutch Oven Feast: Top sirloin, Turkey, and Potatoes cooked in their own Dutch Ovens. -

$21.95

Includes: Green Salad, Dutch Oven Potatoes, Califonia Pasta Salad, Coleslaw, Baked Beans, Roll & Butter, Beverage.

3. New York Steak or Grilled Chicken (Our most popular buffet) -

$18.50 groups 75+, $19.50 otherwise.

Includes: Green Salad, Potato Salad, Califonia Pasta Salad, Coleslaw, Baked Beans, Roll & Butter, Beverage.

4. Barbeque Chicken or Pork Sandwich Dinner -

$15.25

Includes: Traditional Condiments, Potato Salad, Coleslaw, Baked Beans, Corn on the Cob, Beverage.

5. Barbeque Chicken or Pork Sandwich Lunch -

$13.25

Includes: Traditional Condiments, Your choice of two sides, Beverage.

6. Grilled Chicken Breast (4 oz.) or Cheeseburger (1/4 lb.) Dinner -

$14.95

Includes: Traditional Condiments, Green Salad, Potato Salad, California Pasta Salad, Coleslaw, Baked Beans, Roll & Butter, Beverage.

7. Grilled Chicken Breast (4 oz.) or Cheeseburger (1/4 lb.) Lunch -

$11.25

Includes: Traditional Condiments, Your choice of two sides, Beverage.

8. Cold Cut Buffet (Assorted Ham, Turkey, Pastrami, and Cheese) -

$13.95

Includes: Green Salad, Potato Salad, Califonia Pasta Salad, Coleslaw, Baked Beans, Deli Sandwich Bun, Beverage.

Dessert Options - Available for options #1-8.

Dutch Oven Peach Cobbler with Whipped Cream - $3.25 per person.
Fresh Baked Cookies - $1.25 per person.
Other dessert options are available upon request for on aditional charge